To me the nothing says "it's the start of summer" like a trip to Hawaii. As much as I wish I could say that I started my summer with a trip to Hawaii it wasn't meant to be. Although summer officially began on June 21, my summer started with my annual company summer party. It didn't help that the weather for June has been pretty gloomy. The theme this year was Hawaiian. I really look forward to the event since it is the only time of year my work place allows their employees to dress casually.
In the spirit of the Hawaiian theme I decided to pull out the Hawaiian print dress and flowers barrettes I bought during a work trip to Hawaii.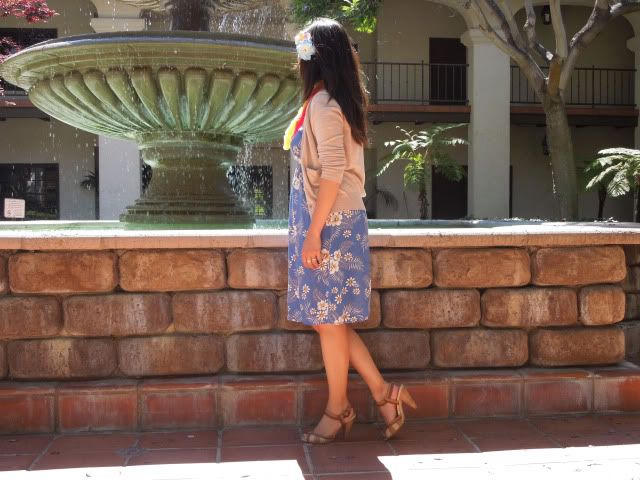 Wearing: Dress from a little shop in Hawaii -sz S, Loft Cardigan -sz XSP,
Aldo
Sandal sz 6
The annual summer party is held at the head academic headquarters. This is the water fountain in the courtyard. The courtyard is beautiful and if I worked here I'd probably have my lunch by the water fountain everyday.
Of course the Hawaiian theme party would not be complete without a little Hawaiian dancing to entertain the guests.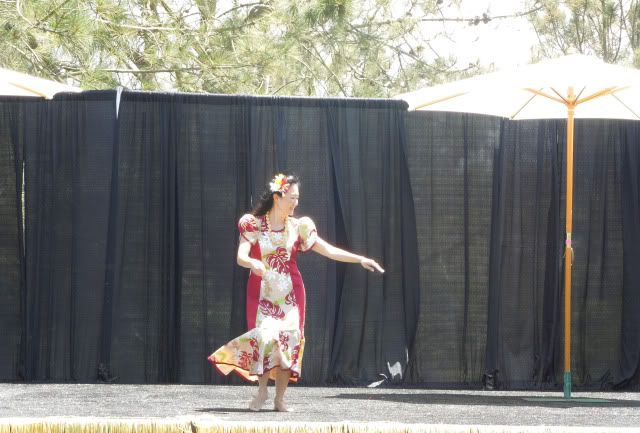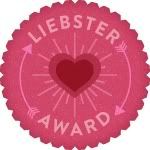 I have recently been nominated for the Liebster blog award by Joy of Aria Rhapsody. I want to thank Joy for the nomination and everyone for visiting and commenting on my blog. I really appreciate all the love and support from everyone.
The Liebster Blog Award is given to upcoming bloggers who have less than 200 followers. The Meaning; Liebster is German and means sweetest, kindest, nicest, dearest, beloved, lovely, kind, pleasant, valued, cute, endearing and welcome.
Here are the rules for receiving this award:
1. Each person must post 11 things about themselves
2. Answer the questions the tagger has set for you plus create 11 questions for the people you've tagged to answer.
3. Choose 11 people and link them in your post.
4. Go to their page and tell them.
5. Remember, no tag backs!
11 Things About Myself
1. I'm a shy and quiet person in real life.
2. I love Japanese anime and manga
3. I'm a helpless romantic dreamer. I believe in things like love at first sight and soul mates.
4. I rarely watch movie solely based on the fact that an actor or actress is staring in the movie. Instead I prefer to watch a movie with story that catches my interest and fall in love with the character the actor or actress is playing.
5. I can't hide my emotions from my husband. He knows me too well.
6. My favorite foreign drama series is the Taiwanese drama "Mars."
7. I enjoy playing video games and my favorite game is Dynasty Warriors.
9. Even though I am no longer a kid, I still love watching Disney movies. I just saw Brave and loved it.
10.I can't watch scary movie or listen to scary stories.
11. When I was younger I was more of a tomboy but people wouldn't know that if they met me today.
Joy's Questions
1. What is your favorite clothing item or accessory?
My silver Claddagh band that my husband and I bought when we were dating. See
here
for the meaning of the Claddagh ring.
2. Favorite place to shop (online or store)?

Ann Taylor
3. Top 3 favorite foods?

Laotian papaya salad, beef salad (larb), kimchi fried rice
4. What are 2 hobbies you enjoy?

I love reading and fashion.
5. Dream vacation?

I would love to visit the Maldives.
6. Favorite book?

The Harry Potter series.
7. Favorite candy or dessert? Cheesecake.
8. Favorite TV show?

I don't get the chance to watch TV much. When I do get the chance I like to watch the "Big Bang Theory."
9. Favorite scent?

Victoria Secret's "Secret Crush" which has been discontinued.
10. Most loved superhero?

Wonder Woman
11. Why do you enjoy blogging?

It gives me the chance to step out of my comfort zone without the pressures of society and it allows me to discover my own fashion style. B
logging has also allowed me the chance to meet many wonderful people and make some new friends.
1. If you were given the chance to meet your favorite blogger, who would it be and why?
2. What is your favorite movie?
3. What is the one thing you cannot live without?
4. Do you speak another language?
5. What country have you visited or would like to visit?
6. If you could have any person's wardrobe collection, who would it be?
7. Have you ever done anything spontaneous?
8.
If you could learn to do anything, what would it be?
9. What is one word that would describe your personality?
10.What was the best advise your mom ever gave you?
11. If you could be any fictional character, who would you choose to be?
I'm passing this onto the following bloggers to spread the love, give support to new and upcoming blogs, or just showcase a couple of blogs that I love! (all have less than 200 followers).