I apologize for my lack of blogging lately. I haven't blog or been able to read any blogs for a while because
I've had so many events that came up recently
.
It didn't help that during that time my mom, little sister and her husband, and their kids came to visit.
I kept telling myself "hopefully I will be able to work on a post tomorrow"...well that tomorrow eventually became 3 weeks later.
There is no greater way to get back into blogging than to do a Petite Fashion Challenge.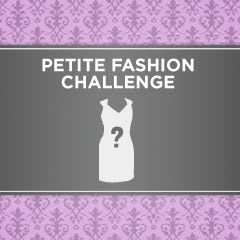 This month's Petite Fashion Challenge is hosted by the creative and talented DIY /Fashion blogger Sew Petite Gal. Make sure you stop by her blog to see the colorful outfits created by the

lovely participant

s.
The Challenge:

Candy Colorized
Take a bowl full of colorful candies (M&Ms, Jolly Ranchers, jelly beans, etc.), close your eyes, and draw 2-3 pieces. Now use those colors (+ a neutral of your choosing) to form the basis for your ensemble.

**Extra brownie points if you post more than 1 colorful ensemble or if you add a DIY element **
I had a lot of fun with this PFC. It felt it was a very fun way to have someone experiment and step out of their comfort zone.
For this challenge I use Skittles and drew red, green, and yellow. Unfortunately before I got the chance to take a picture of the Skittles my husband and daughter ate them all. SMH. This was a tough one because red, yellow and green were colors that I didn't have much of.
I tried to do the best I could with what I had.
First Outfit
Wearing: Express Blouse XS, Express Skirt O, Forever21 Necklace, Jessica Simpson Sling Pump -6
Second Outfit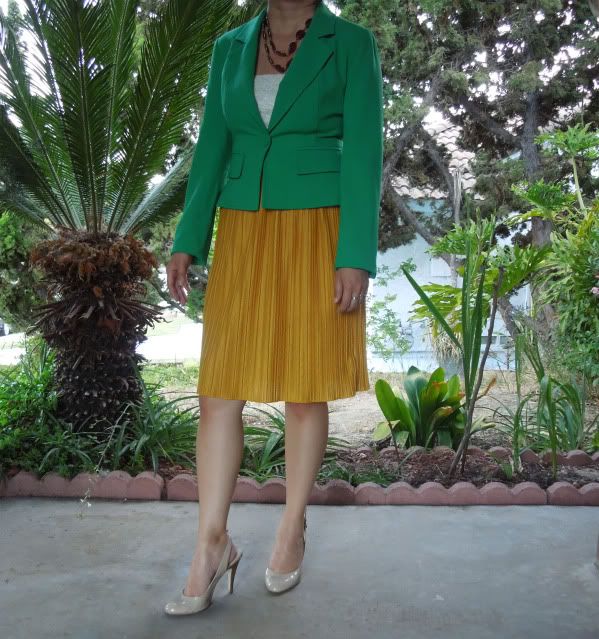 Wearing: Forever21 Blazer - S, Forever 21 Dress, The Limited Necklace, Jessica Simpson Sling Pump -6
Thank you to Sew Petite Gal for hosting this month PFC. It was a fun challenge.