Along the way to building a versatile wardrobe I have filled my closet with a lot of work appropriate clothing. Each time I went shopping, I always looked for clothes that was a good match for work. Casual clothes were somehow always put on the back burner. I would only remember that I needed more casual clothing when I rummaged through my closet looking for a plain t-shirt and jeans to wear.
Inspired by the
Petite Fashion Challenge # 6 Dress Up Your Basic
hosted by Jess of Stylepint I decided to get back to basics and there nothing is more basic than a plain white t-shirt and a good ol' pair of jeans. The challenges are hosted by a different petite blogger every month. Check
here
to see the full list of previous and upcoming challenges.
I didn't have any white t-shirts so I picked this one up from Walmart for about $5. The t-shirt length was a little long and passed my hip so I tucked in the extra material. I wanted to add my own personal touch and a little bit of a feminine touch to the outfit so I added the Forever21 lace jacket and necklace. My husband said he really liked this outfit on me. He thought it was a nice change to see me in some nice casual clothing.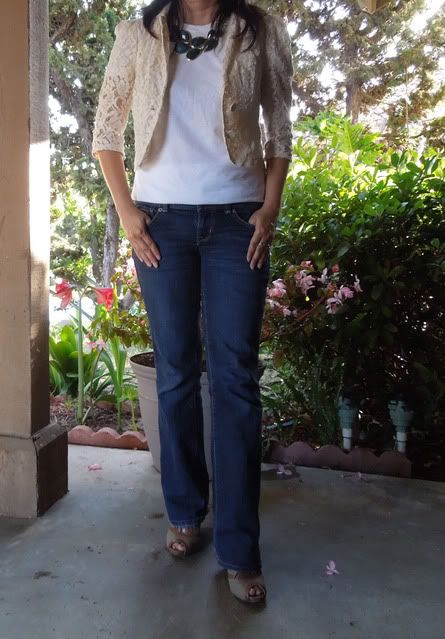 Wearing: Forever21 Lace Blazer old sz -S, Walmart Hanes T-shirt sz S, American Eagle Slim Boot Jeans
sz Short 2, Forever21 Necklace, Ann Taylor Peeptoe Bootie old sz -6