Now that the busy and crazy days are over, I'm hoping I can get back to blogging again.
I went on a little shopping spree (seems to happen a lot doesn't it) and bought a few dresses and shoes at the end of last month. My purchases were largely influenced by the sale alerts tweeted by Fast Food & Fast Fashion, Petite Little Girl, Extra Petite and Sandy a La Mode on Twitter. As Elle elegantly puts it: "

Twitter is a platform on which shopping in moderation goes to die.

" Let me tell you, as hard as I try, it's almost impossible to resist the sales alerts on twitter. I think my husband may ban me from twitter. Actually I know he would if he knew. :o
Like Elle I also saw the tweet that Petite Little Girl sent to Extra Petite with a link to a mint peplum dress. I have been searching (I know I know I'm always searching right) for a peplum dress so when I saw the dress I was excited and I had to get the dress.
I have never heard of Tobi until I saw the Petite Little Girl tweet. Tobi is an online boutique that sells trendy clothes for affordable prices. Everyday Tobi offers 30% off of new arrivals.
See Elle's reviews on the mint peplum dress and other Tobi dresses here.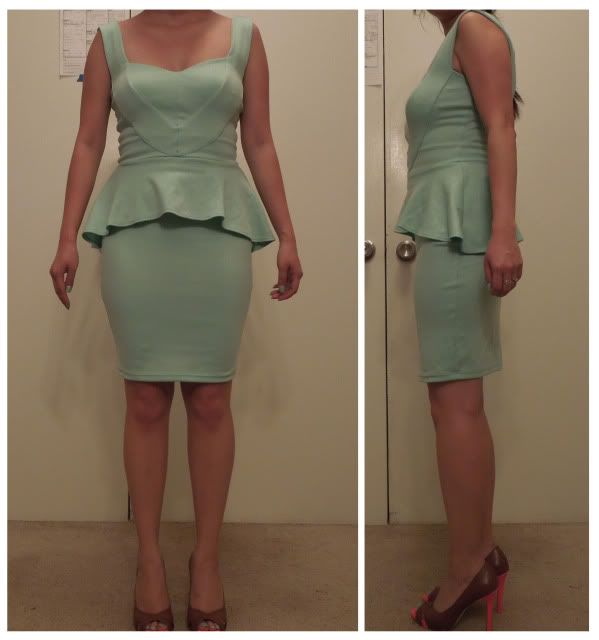 Measurement laid flat: Bust: 13 inches, Waist: 12 inches, Hip:13.5 inches, Length from strap to bottom: 32.5 inches
Material: 86% Polyester, 12% Rayon, 2% Spandex
The dress is made of a medium-knit weight material and it is somewhat stretchy. It fits me well, however, the straps are slightly big on my shoulders and the dress really emphasizes my thighs. What I dislike about the dress is the heart shape bust which make me feel like I'm a teen. Unfortunately, I will be returning the dress. *Sigh* I guess my search for a peplum dress continues although I'm debating if I should stop since the peplum style doesn't seem to flatter my body shape.
My next purchases were influenced by Elle of
Fashion Food & Fast Fashion
who tweeted a code for $50 off a $150 purchases in addition to 30% off the entire purchase. I figured it would be a good idea to get a few Ann Taylor online exclusive items. I ordered two dresses and a pair of platform pumps. I will be doing a post on the pumps in the near future.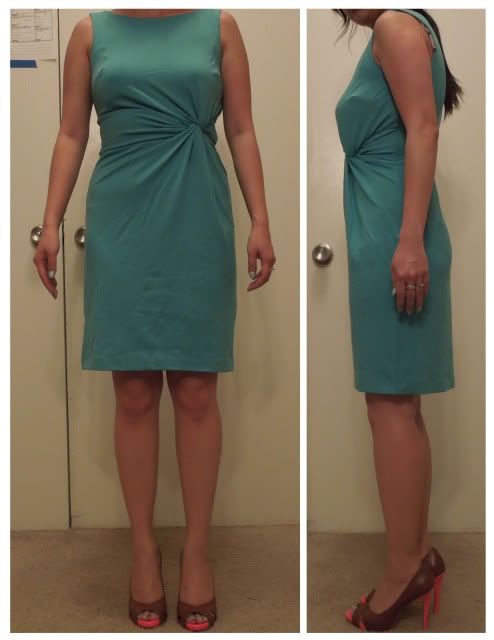 Measurement laid flat: Bust: 13.5 inches, Waist: 12 inches, Hip:14 inches, Length: 33 inches, Shoulder: 12 inches
Material:95% Rayon, 5% Spandex
The dress is made of light-knit weight stretchy material and is great when the weather is warmer. The twist knot detail is one of the things that caught my interest and I love the color of the dress. I feel it's such a pretty color for Spring. The twist knot seems to sit on the
model's
waist line while the the twist knot here is slightly above the waist. I really like how the dress looked on the
model
but this one looks "meh" on me so I'm going to return the dress.
Measurement lay flat: Bust: 13 inches, Waist: 12.5 inches, Hip:14.5 inches, Length: 33 inches, Shoulder: 13 inches, Sleeves: 17 inches
Material:95% Polyster, 5% Spandex
I got this dress as a filler to meet the free shipping requirement. The dress is a medium stretchly material and feels heavier than the previous dress. It comes with a smocked waistband belt that is attached to the dress. It's hard to see it in the photo but I personally think the belt kinda ruins the dress. It can do without the belt. This is also a return for me.
Sydney of Petite Little Girl was kind enough to sell me this dress from "The Limited" that she and Elle tweeted about. The dress is sold out online and in the stores here. I love the dresses and skirts that "The Limited" offers but it's a let down that they don't offer petite sizes. That means that even though the dresses or skirts may fit it will usually require alteration on the length of the dresses.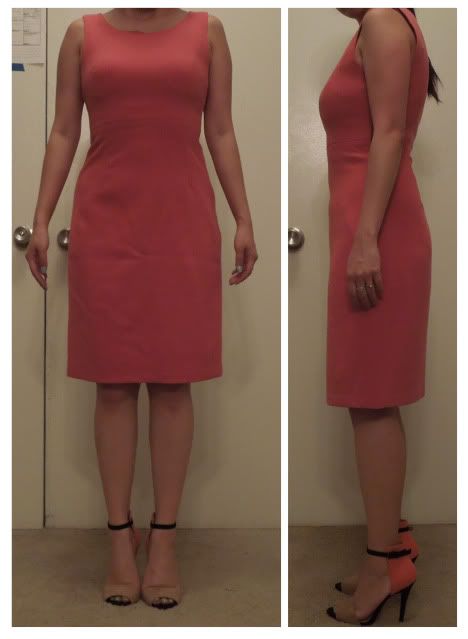 Measurement lay flat: Bust: 14 inches, Waist: 12 inches, Hip:14 inches, Length: 35 inches, Shoulder: 12.5 inches,
Material: Shell: 65% Polyester 30% Rayon, 5% Spandex, Lining: 100% Polyester
The dress feels like a medium weight material that doesn't allow much room for stretching but it's fully lined. The dress is slightly snug along my torso and waist and flares out at my hip. The length hits me right at the knee. I am currently considering if I should have it altered at least 2 inches above my knees. My husband said that it looked fine. What do you think?
See the dress on Elle and Sydney
here
So were any of you influenced by the sales alerts on blogs or twitter?