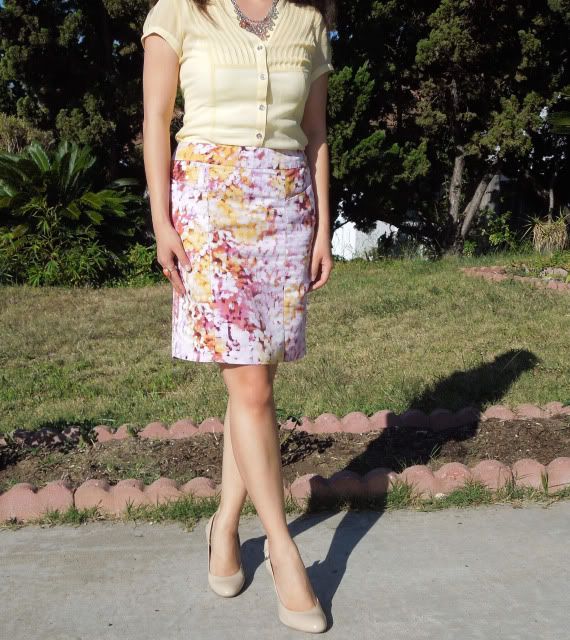 Wearing: Express Blouse old -XS , Loft Skirt old - OP, Banana Republic Cami - XSP, Jessica Simpson Pump -6, Loft Necklace old, The Limited Ring old -6
I tried to come up with a creative title for this post. Since I was wearing a yellow blouse I thought "hey, why not change the Hello to Yellow." I know I know...I'm being a dork. =)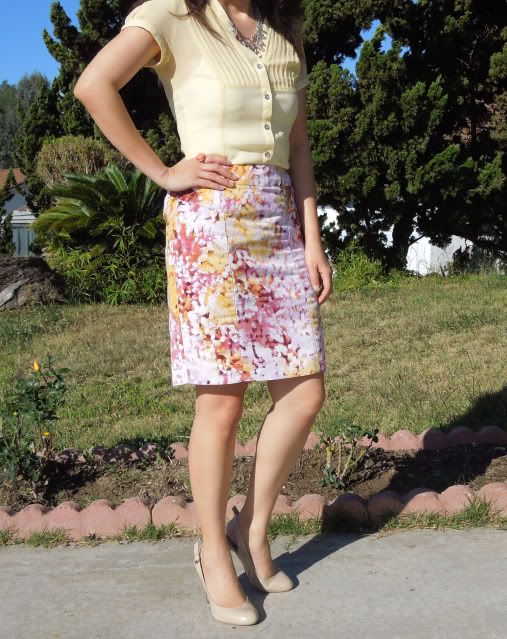 With Spring here I am excited to pull out my favorite spring items.
A long, long, long time ago I would not have considered anything in yellow for the following reasons: 1) The color yellow was too bright for a shy person like me 2) I was afraid yellow would look horrible on me because of my skin tone.
While shopping at Express I found a pretty white blouse on sale but, unfortunately, there were no more blouses in my size. The only extra small left on the rack was this yellow one. My original intention was to try it on just to get in idea of how it would fit me and if the fit worked out I'd try to track down the white version. But as I was looking in the mirror and deciding on the fit a sales representative told me that the yellow blouse looked great on me. I was still a little hesitant but I thought I would give the color a chance and bought the blouse.
For a while the blouse sat in my closet, overlooked and forlorn, until that fateful day when I was looking for a top to pair with the Loft skirt and found the blouse again. Since that day the blouse has been one of my favorite item to pair with the floral skirt.
Ladies, do you have that dreaded color you avoided only to find out that you loved how the color looked on you?