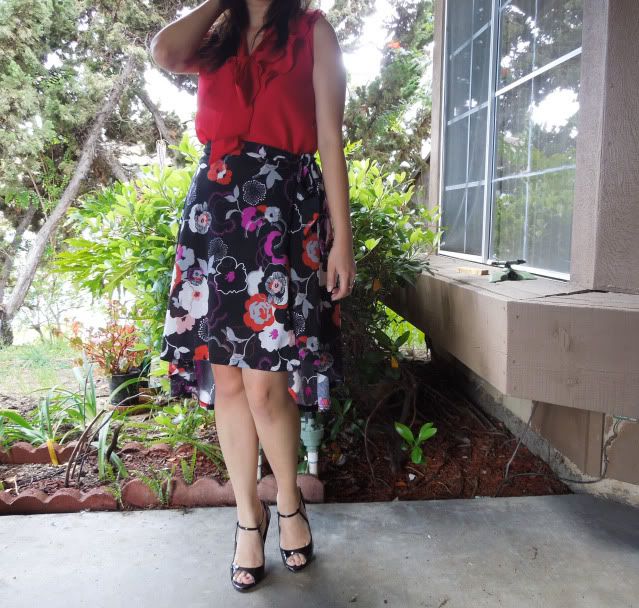 Wearing: Loft Blouse - XSP, Target's
Xhilaration Junior Tulip Skirt
- S, Guess Open Toe Pumps -6
My husband doesn't really pay too much attention to fashion so I was a little surprised when he mentioned to me that he would like to see me in a high low hem skirt.
Since that day, I have been on the hunt for a high low hem skirt but I wasn't able to find one that I liked. The skirts I found were either too big or too shear.
I came across this skirt when I made a quick stop at Target during my lunch break. The price of the skirt online is $14.99 but in store it was on clearance for $10.48 Since I didn't have time to try it on I just bought the skirt and figured I pair it my wardrobe once I got it home.
I love the floral prints and the skirt is a jersey like wrap skirt. It's material is 95% polyester, 5% spandex. The skirt is a little sheer and it's best to be worn with either a nude underwear or with a slip.
I love the way the skirt flows when I move or dance. I imagine that this skirt would be great to wear for a night of Salsa dancing. Now if only I knew how to Salsa dance. Hmmm...I may have to consider taking Salsa dancing class. I wonder what the husband will say. =)
What do you ladies think of high low hem skirts?