Wearing: Banana Republic Factory Shirt old -XSP,
Forever 21 Maxi Skirt
recent -XS , New York & Company old - S/M, Aldo Pump -6, Turquoise Necklace and Earring c/o of
KTR Style
This maxi skirt has been sitting in my closet for a few weeks now. I initially bought the skirt thinking that I would pair it with one of my blouses. The pairing ended up being such a headache for me. I tried to find a top in my closet to go with the skirt but I found out that it was easier said than done. The skirt is boxy and has an elastic band that made it look frumpy when a top was tucked under the skirt.
More than once I thought about returning the skirt but held on to it because it only cost $12.50 and I wasn't willing to give up on trying to find a way of making it work with my wardrobe. I know I know...not the most rational reasons, right.=)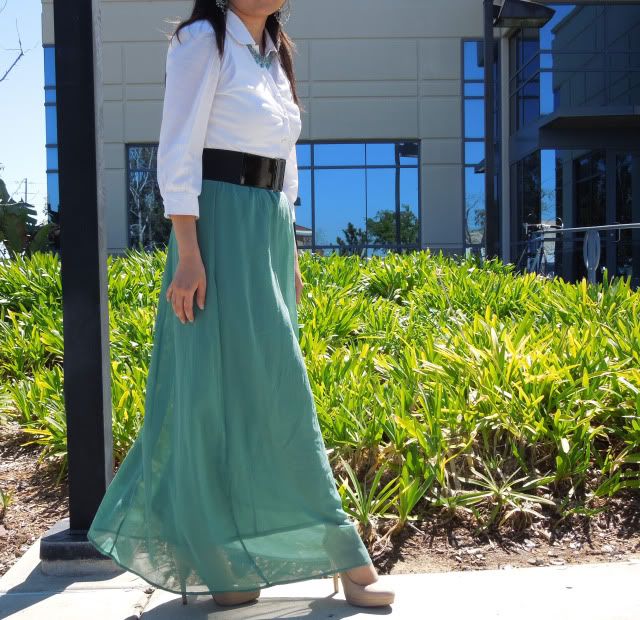 Today I decided I would give the skirt one more try. I decided to pair the skirt with a simple cotton blouse and added a belt to clinch the skirt at the waist. I initially put on a skinny belt but the fabric bunched up so much that it wound up blocking the belt from view. After a few unsuccessful tries I remembered that I had this wide black belt. I liked the way the wide belt worked with the skirt but I think it would have looked better if I could have worn it with lighter color belt. What do you suggest? The only thing I'm still not completely happy with is that, even with the wide belt, the material still puffed up a little around the waist area. Overall I was still pleased that I was able to finally able to find a way to wear the skirt. Although my daughter told me that I looked like one of the ladies from the pioneer day.=) See the photo below.
Photo courtesy of fanpop: source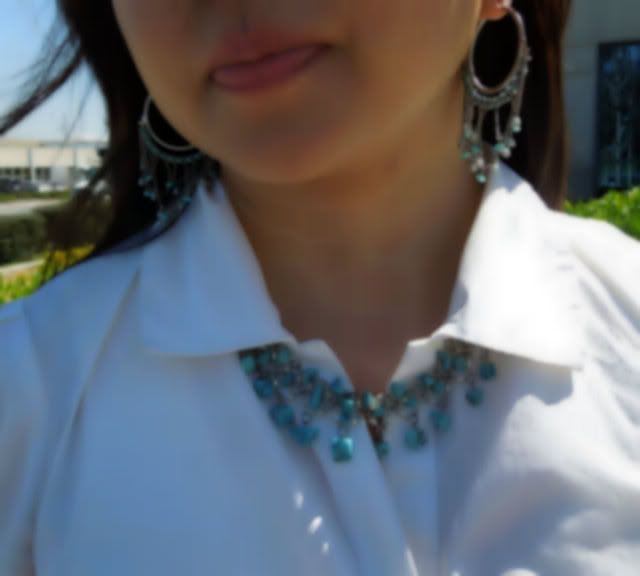 I couldn't decide what accessories to wear with the outfit until I saw the box that had this turquoise necklace and earring tucked inside. This beautiful set is giveaway prize from the lovely KTR of KTRstyle's and I had just received it a few days ago. Check out her
blog
if you have not done so. She has an amazing sense of style.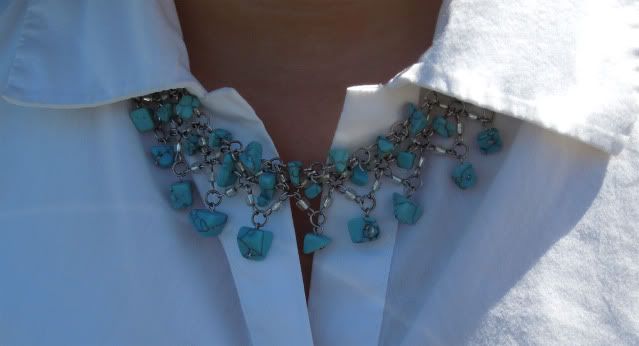 Here is a closer view of the beautiful necklace.
Ladies what do you think of maxi skirts and have you had problems trying to find something to go along with it?