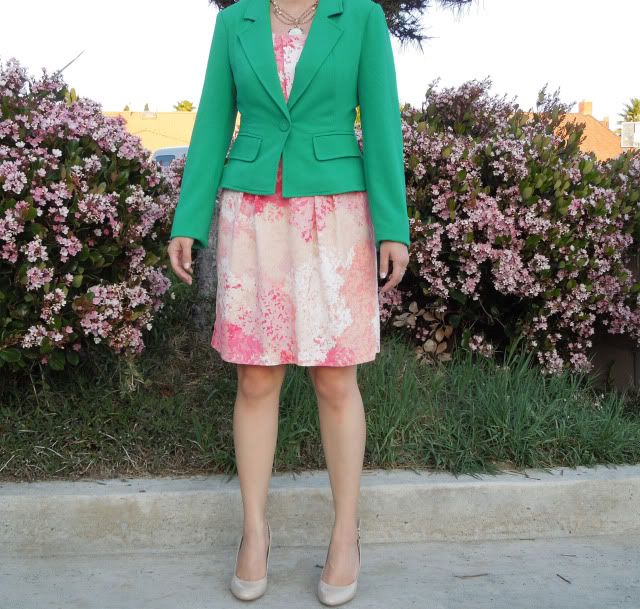 Wearing:
Forever21 Blazer
-S, Loft Dress -OP, Jessica Simpson Nude Pump- 6, 1928 Necklace
I apologize for the delay. I meant to get this post up earlier but life issues kept getting in the way.
My wardrobe was lacking in the blazers department so I decided to do a little shopping. When I shop for blazers my biggest issue is that the shoulder pads makes my shoulder seem broad like I'm wearing football gears. For helpful tips on how to find a good blazer check out Kelly post
How to Find a Blazer Jacket That Fits
.
I went to Forever21 looking for an affordable red or white blazer but I ended up finding this green blazer instead. As I was strolling around the store this peplum sihouette caught my eye. The blazer is a beautiful green color which is perfect for spring and is lined inside with a striped pattern. It has shoulder pads but the peplum bottom help to balance out shoulder. The sleeves are a bit long but that didn't bother me since I knew I could just tuck in the sleeve or wear the sleeve rolled up.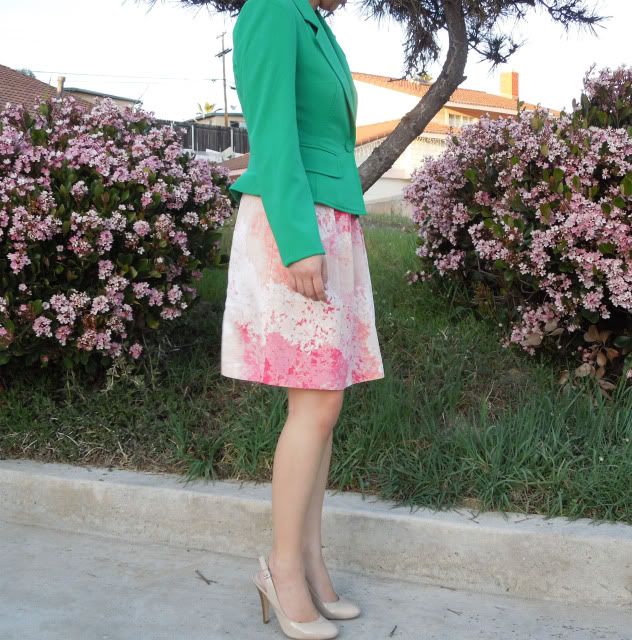 Side view of the blazer with the sleeve tucked in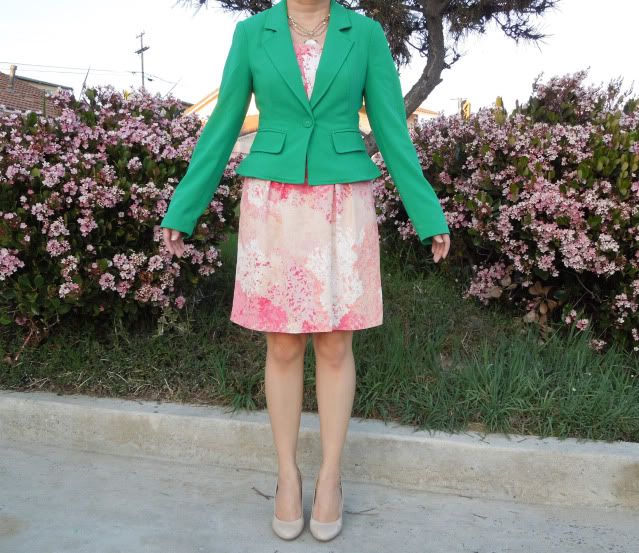 The the full length of the sleeves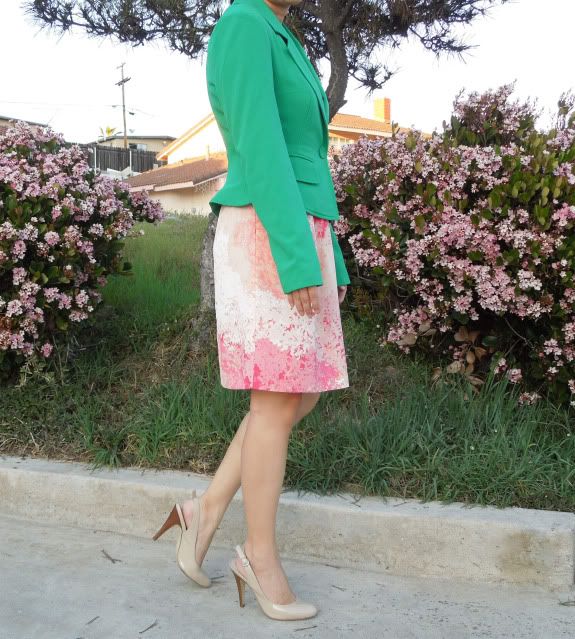 Side view of the sleeves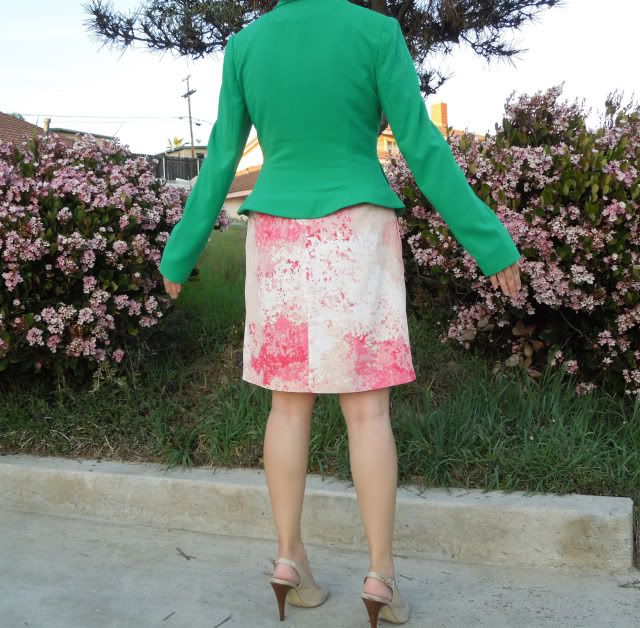 Back view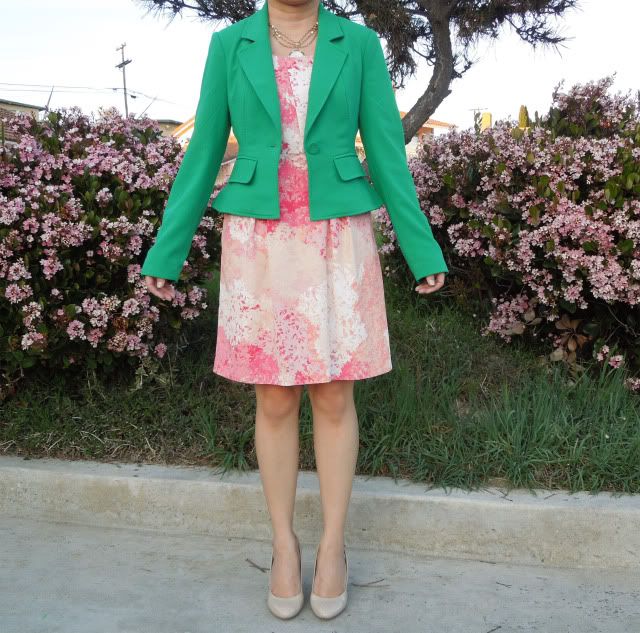 Blazer open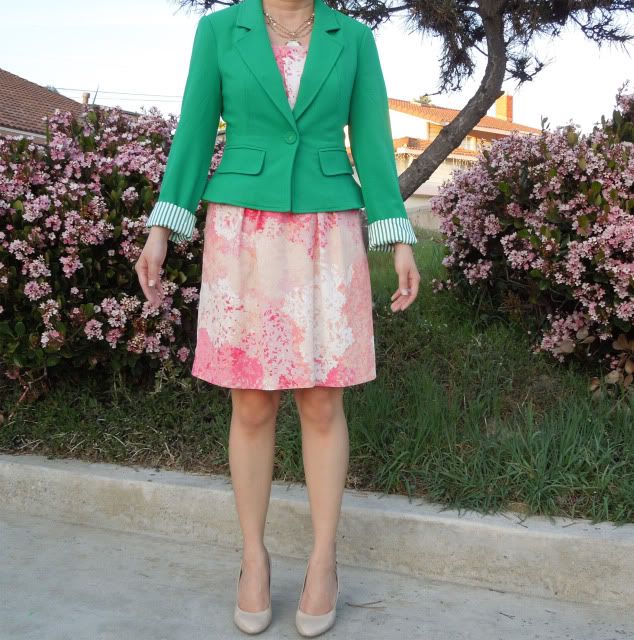 Sleeves rolled two times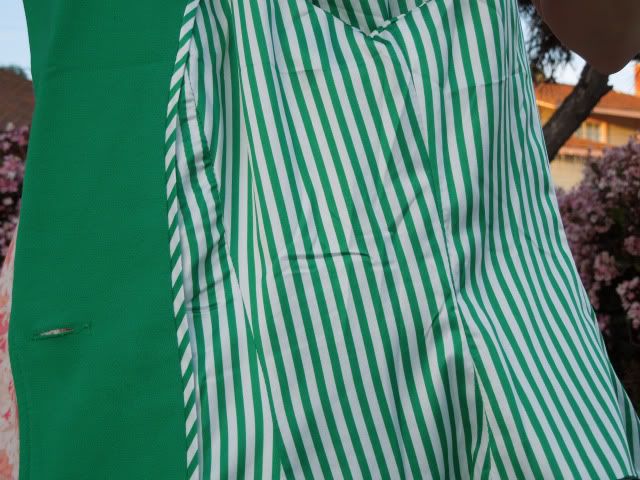 Inside of the blazer
What I like:
-The peplum sihouette gives the blazer a feminine detail
- It's fully lined with a fun stripe pattern
- Can be worn in a professional or casual setting
- The green color is surprisingly versatile
-The blazer nip at the waist which helps to define the waist
-
What I dislike:
-The material is soft and wrinkles very easily as seen in the photos
-The blazer is expensive for Forever21 at $29.80
- For me its the dreaded "Dry clean only"
Measurements - Small Laying Flat
Should: 14.5"
Bust:15"
Waist: 14"
Sleeve: 23"
Length: 22"
Body: 64% polyester, 31% rayon, 5% spandex
Lining: 100% polyester
Even though I think the blazer it's kind of expensive for a Forever21 item. I decided to keep it since I don't have anything like it and can see myself reaching for the blazer often. Oh yeah and I can't forget that St. Patrick's Day is coming up so I've got to have my green ready so I don't get pinch. =)