A huge thanks to Sydney of PetiteLittleGirl for finding this beautiful Ann Taylor sweater for me. See Sydney's blog to see how she styled this sweater.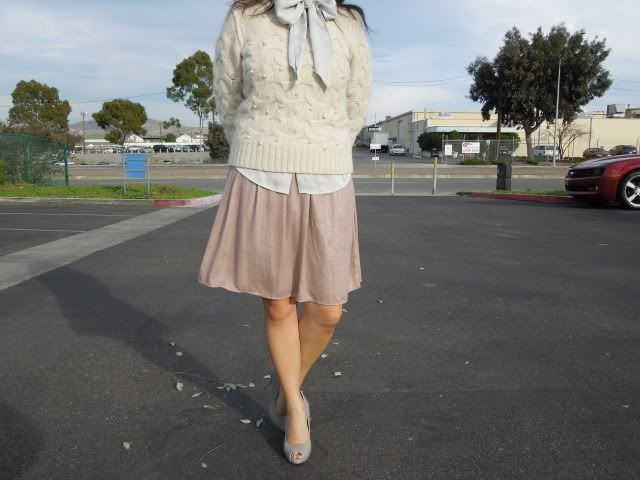 Wearing:
Blouse: Ann Taylor old XSP
Sweater: Ann Taylor Snowpearl Crew Neck SP
Skirt:
Charlotte Russe Dress worn as a skirt old S
Shoe: BCBG Genernation bootie -6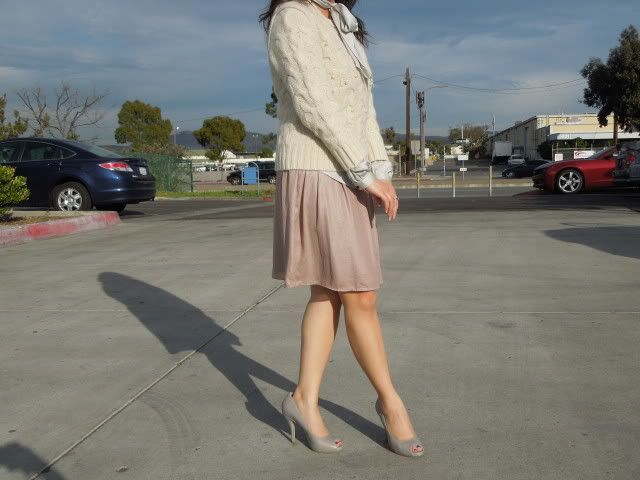 If you have been following my blog you can probably guess by now that I love all things girly. If this is your first time reading then let me tell you that I love clothes with lace, ruffles, or anything that you can associate with being a girly girl
.
But what if I told you that, had you met me 10 years ago, you would not have recognized me. There are many people who knew me 10 years ago that would probably have to do a double take if they passed me on the street today.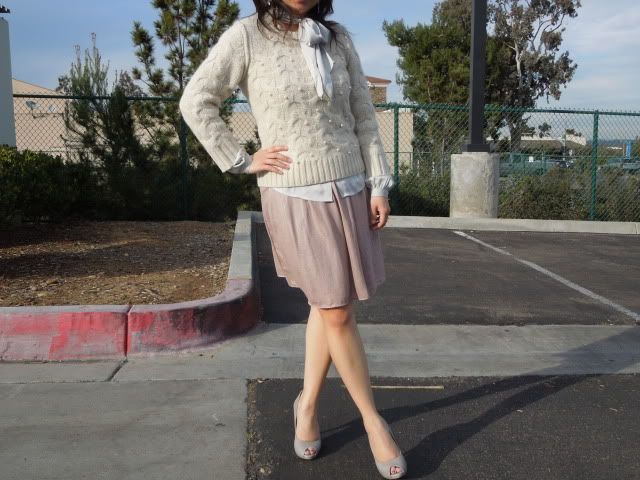 10 years ago I was the type of girl who was considered "just one of the guys." I was somewhat of a tomboy. I loved anime and anything that involved martial arts. My idols were Donnie Yen and Jet Li. My idea of something casual to wear out was a
t-shirt and
windbreaker pants(*gasp* I know I know...pretty horrible, right?). And to top it all off I usually had my hair tied up in a pony tail or braided. Fashion was the farthest thing from my mind. Back then I couldn't have named one famous fashion designer even if my life depended on it. But I could tell you all the details about the Fushigi Yugi anime =).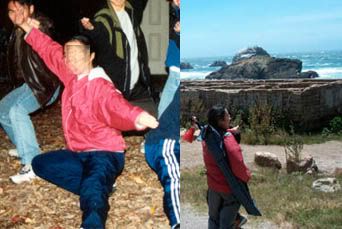 *Me about 10 yrs ago added per request by SPG*
Even so, I was wasn't your typical tomboy. There was a part of me that was a romantic dreamer who read romantic novel, who loved things that were cute and girly, and would even put on a pretty dress and wear heels every once in a while. Still, that was something that only happened on rare occasions. People rarely saw that side of me.
It wasn't until I met and married my husband that I started to embrace the girly side of me. I became interested in makeup, paid more attention to what I wore, and started to read up about the fashion world. Finding the petite community two years ago has provided me with some in depth perspective on the fashion world. I feel that I still have a long way to go
and I
am still searching for my style
since I was such a late bloomer but I feel I've come a long way.
"
False advertisement!
What happen to the girl I married who wasn't into makeup and fashion" my husband said to me as he saw me become more comfortable with myself. He was joking of course. He says he has always thought I was always beautiful and now I'm only proving that he was right.
I'm still that girl who loves anime and martial arts. And my idols are still Donnie Yen and Jet Li. I am just finally coming out of my shell and giving the woman hidden inside a chance to shine.
Ladies, how much have you changed over the years?