I went to the mall after Christmas to return a few items and, of course, to see if there were any good deals. This year the deals felt like they were "meh." I feel like the deals last year were better. I stopped by Banana Republic since they were having a "get an additional 30% off of on sale items." I didn't see anything that really stood out to me and was about to walk out the store when I noticed the cardigan. It's on sale for $27.99 with an additional 30% = $19.59 The cardigan didn't look like anything special on the hanger but since I didn't have a cardigan in that color I thought "why not try it out to see how it would look on me." I ended up buying it along with a white cami. The cardigan is made of Italian yarn which consists of 47% wool, 45% nylon, and 8% cashmere. It's a thicker cardigan that's nice to have when the weather gets colder but, unfortunately, it's not as soft as it looks and may feel a little scratchy for some people. For me it's not too bad. It looked better on me then it did on the hanger, or at least I should hope so =).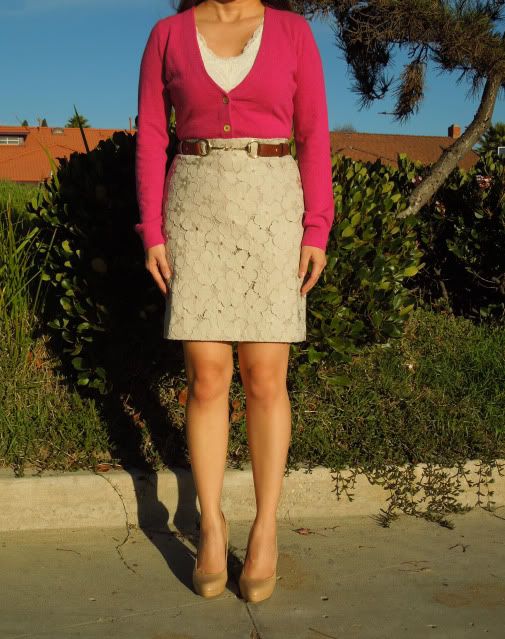 Wearing:
Cardigan:
Banana Republic Gold Button Cardigan in Sangria
XP
Cami
: Banana Republic
Skirt:
Ann Taylor Snow Flower Lace Skirt
- OP
Belt:
The Limited
Shoe
: Aldo Nude Pump old -6
I love anything with lace so I was pretty happy when I saw this skirt at Ann Taylor. It retails for $128. I really loved the design and details on it but it was too pricey for me, even at 50% off the retail price. So when I received my $20 rewards card I knew I had to go and get it. The material of the skirt is made from 76% nylon and 24% polyester. It is little stiff and doesn't allow much room for stretching. My only complaint is it that for such an expensive skirt it doesn't have a lining.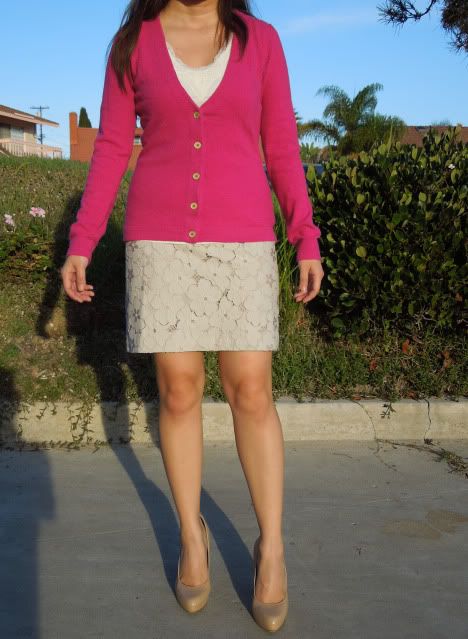 The full length of the cardigan.
Cardigan Measurement:
shoulder:13.5", bust: 16", waist: 14.6", length: 23", sleeve: 23"
Skirt Measurement:
waist: 12', hip: 16" length: 18"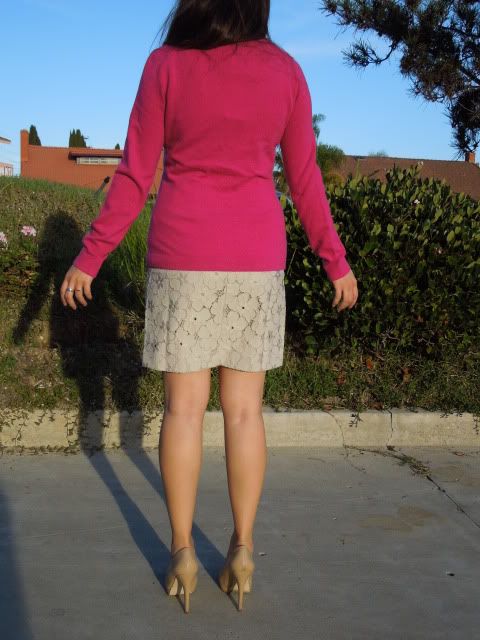 The back view