This outfit was inspired by stylish and fabulous
Pink Peonies.
I browse the Forever21 website almost daily to see what they have in their new arrival section. If I see anything I like on the website I will try to track down the item at the store since they have a "return for credit" policy. I usually want to see how the item fits before I make a purchase. Sometimes I'm get lucky and I'm able to find the item in store but, more often than not, I don't have much luck. I've learned to save myself some of the headache of making a the trip to the mall by calling the store first and asking the SA if they have the item in store. You want to provide the SA with the product code and they are usually very helpful. In cities where there are multiple Forever21 stores, the SA can tell you which stores have the items.
I saw this S
calloped Floral Embroidered Skirt (currently sold out online) while browsing on the Forever21 website and knew that I just had to get the skirt. I headed to mall during my lunch break to see if I can find the skirt in store.
(My husband is threatening to drive me to work so that I can't do this in on a daily basis lol. He says I should be eating lunch because he worries that I don't eat and always end up at the mall instead.)
But I digress, l
uckily I was able find the skirt on my first trip to the mall.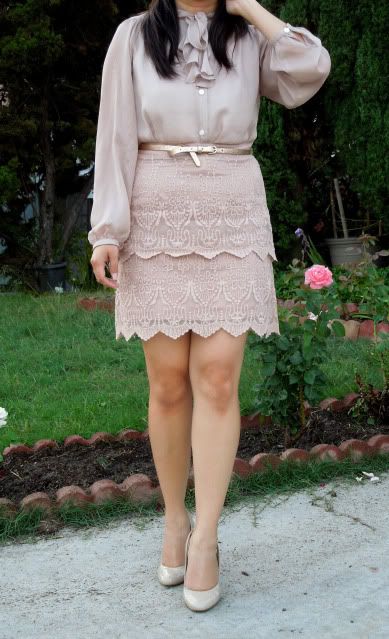 Wearing: Loft Blouse sz- XS, ,Forever 21 S

calloped Floral Embroidered Skirt sz -XS, Ann Taylor Belt sz- S, Jessica Simpson Sling Back Pump sz-6